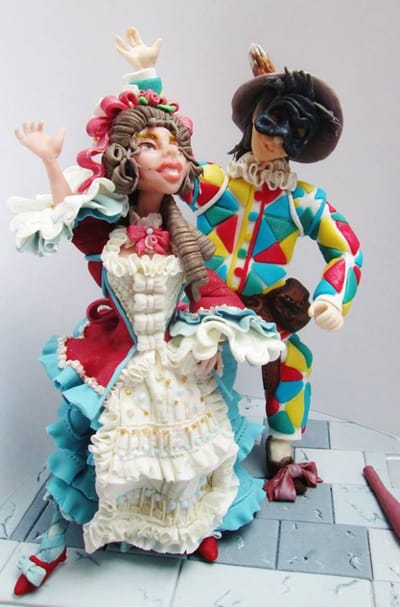 Present in over 40 countries in the world, Madame Loulou is finally here! Since 2017 Madame Loulou has been serving the US market from our home base in Houston, TX. We are passionate about making lives easier for bakers and cake decorators of all skill levels and abilities, so that you can focus on those things that bring you or your customers the most joy.
Smart Lace: ready-to-use lace decor that works with any silicone mat!
Smart Lace is edible ready-to-use lace decor, and is one of our most recent product innovations. It fully captures the creativity and technical know-how we bring to the confectionery industry and was the result of years of struggling with traditional powdered lace mix at demos around the world in a variety of climates. We transformed a process that took time, experience and quite often luck and made it accessible to all and only limited by the creativity of the user.
Smart Lace allows you to quickly make lace decor in a variety of colors. It works with any brand of silicone mat, requires only one coat so you use less, and you can dry it in the oven or dehydrator if you like, allowing you to make it in advance or right when it's needed. It contains only natural, vegetable-based ingredients with no artificial preservatives. Click
here
to see Smart Lace in action.
Professional Quality Fondant

Our fondant too sets us apart, not just because we don't hide it behind a plastic pail like everyone else, but because it is incredibly workable, right out of the package. Not only can it be rolled much thinner than leading fondant brands and tastes more natural (your guests will actually eat it rather than scrape it off!), it comes in a variety of vibrant colors, more than 20 at this time, ready to inspire your creativity. Is there a color that you would really, really like? Contact us to share your requests, we can even create custom colors for your shop or special event (advanced notice required).
It's the ingredients that make it different. Our fondant doesn't contain any hydrogenated fats. Instead we use a blend of premium, natural oils to provide enhanced workability while avoiding the negative health effects associated with hydrogenated fats. These ingredients also help our fondant hold colors better, so you you don't have to worry about fading, and make it the ideal medium for modelling, as it detaches easily from silicone molds, dries more slowly than other brands, and holds shapes and details for much longer. Looking for gum paste? Simply add a little tylose powder to it, and it instantly transforms into gum paste!
Performance Buttercream

Searching for a completely natural American buttercream recipe that looks good in the sun, heat and humidity? Try ours! Just add your choice of butter to the natural stabilizers and thickeners included in our mix and you will create a tasty yet resilient buttercream so you can bring your cakes from the freezer to the outdoors to the display table without fear!
Eggless Royal Icing, it's finally here
Meringue-based desserts have been a no-go for those following Vegan diets, until now! Our Vegan Royal Icing mix gives you the performance of traditional Royal Icing but without the meringue. And like all of our other products it is completely natural and certified gluten-free.
Select Ingredients & Artisanal Production

Everything that we offer is produced with care in small batches in our gluten-free facility in the Veneto region of Italy. We take our supply chain seriously, taking great care in how and where we source our ingredients so that we can consistently deliver clean label products that are GMO-free as well as being free of hydrogenated oils, trans fats and preservatives. All of our product labels adhere to the latest Nutrition facts standards introduced by the FDA in 2016.
Shop With Confidence!

If you have questions or comments about your order or the content found within this website, please feel free to contact us at Info@MadameLoulouUSA.com or use the chat function on our homepage and we'll be in touch as soon as we can. All orders ship within 24 hours by either UPS or USPS.
Thanks for visiting our site and we look forward to serving you today and in the future!